P 1 | Small-scaled Thai Re-creation of 'horses'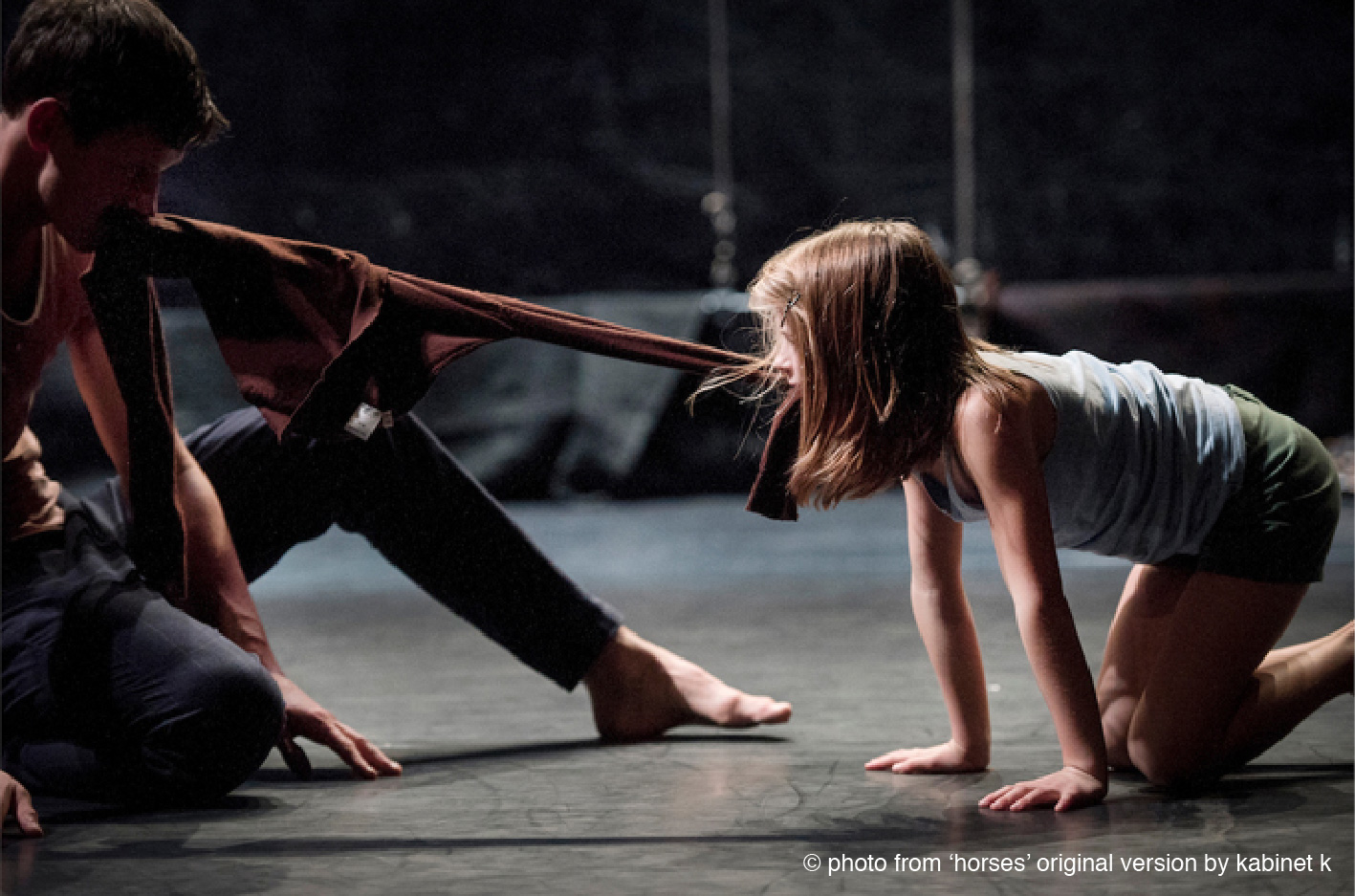 P 1 | Small-scaled Thai Recreation of 'horses'
BICT Fest 2018 is proud to present a week long process of the recreation of 'horses' production. This is a collaboration between the Belgian dance company, kabinet k, and a group of professional Thai dancers and children.
horses is a dance performance with an untamable energy, an encounter between 6 young children and 6 adults. Great and small share eagerness and bewilderment and above all, they trust each other unshakably.
horses is about wanting to be a grown up and about wanting to remain a child, about power and vulnerability, about carrying and being carried. About the probing before surrender, the search for whom is pulling the strings, about finding the right cadence.
horses bears witness to the force and integrity of human relations. The dancers search for a symbiosis, an unique bond with the other, like riders and horses
video from 'horses' original production by kabinet k
Title Small-scaled Thai Recreation of 'horses'
Country Belgium x Thai
Group / Artist
Presentation of 7 day workshop process between the Belgian dance company, kabinet k and Thai dancers and children
Type Contemporary Dance
Suitable for Children from 8 years old
Credit
'horses' Original Production: kabinet k & hetpaleis
Choreography: Joke Laureyns & Kwint Manshoven
Adult dancers: Sunon Wachirawarakarn / Jarunun Phantachat /
Thanapol Virulhakul / Nitipat Pholchai / Pakhamon Hemachandra / Pavida Wachirapanyaporn
Child dancers: Napasrapee Panyabaramee / Chanuwat Tangmanuswong /
Fleur Warntjes / Aiyahgon Agkarawipawal / Preechayan Durongweyeya
Original music: Thomas Devos & Bertel Schollaert
Scenography: Dirk De Hooghe & Kwint Manshoven
Lighting design: Dirk De Hooghe
Dramaturgy: Mieke Versyp
Production management: Maarten Naessens
Dates and Times
17 May 2018 : Festival Opening 19.00
(+post-show talk)
*Festival opening night 19.00-21.00. This show will be a part of the event.
19 May 2018 : 16.00
(+post-show talk)
Duration 50 minutes
Ticket Prices Admission free (please register)
Venue Studio 4th floor, BACC
Seat 200 seats